Gades
Talk

0
121pages on
this wiki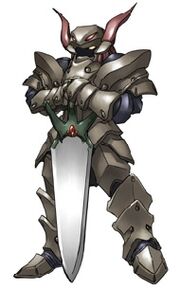 Gades is the Sinistral of Destruction. He has a tendency to gloat and talk condescendingly about the humans, saying that they are the most inferior race of all. He is the most obnoxious, impatient, and impetuous of all the the Sinistrals, always seeking to destroy anything at every chance he gets.
Gades, unlike the other Sinistrals, concentrates more on strength and brute force than magic to fight, and in battles against him he always relies entirely on physical attacks. He has a large sword as a weapon. After the first game, he's established as the weakest of the Sinistrals. He's also always the first Sinistral the heroes have to fight, and usually defeats the heroes in their first encounter.
In Lufia II: Rise of the Sinistrals, Gades has a sword which can be equipped by some of the party members. There are two possible ways to obtain it. The first is, if you beat Gades in the first encounter (you still lose overall, however you will gain the Gades Blade before he blasts the party unconscious). The second is to find it in the Ancient Cave in Guberick within a blue chest. Since its a rare item it can be taken into the Ancient Cave as many times as you wish. It has the IP move Octo-Strike.
In Battle Statistics
Edit
First Battle

| | |
| --- | --- |
| HP | 2,500 |
| MP | 320 |
| ATP | 240 |
| DFP | 180 |
| EXP | 10,000 |
| Gold | 20,000 |
| Weaknesses | Nothing |
| Drop | Nothing |
| Drop Chances | - |
| Special Attacks | Destructo Wave, Devastation |

Second Battle

| | |
| --- | --- |
| HP | 7,500 |
| MP | 320 |
| ATP | 420 |
| DFP | 290 |
| EXP | 50,000 |
| Gold | 50,000 |
| Weaknesses | Holy |
| Drop | Nothing |
| Drop Chances | - |
| Special Attacks | Destructo Wave |

Third Battle

| | |
| --- | --- |
| HP | 10,000 |
| MP | 0 |
| ATP | 600 |
| DFP | 200 |
| EXP | 50,000 |
| Gold | 50,000 |
| Weaknesses | Holy |
| Drop | Nothing |
| Drop Chances | - |
| Special Attacks | Destructo Wave, Devastation |